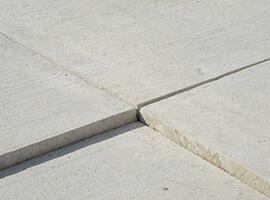 Concrete is heavy. When the soils underneath your concrete slab becomes washed out or compressed the support system for your slab begins to fail. This causes your slab to sink into the void underneath the slab. If part of your concrete slab is supported in one section and not in others, the unsupported pieces may crack away from the other section which will result in unlevel concrete.
Florida Foundations & Concrete Leveling can inspect the condition of your concrete slab during an on-site estimate. We will then provide you with the best course of action for leveling or repairing your concrete. The most common solution for this is to employ our patented polyjacking lifting technique to lift the uneven concrete into place. However at times it may be necessary to remove and replace the concrete slab entirely.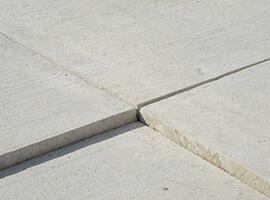 The Top Causes For Sinking
Our experts at Florida Foundations & Concrete Leveling know that there are a number of reasons why your concrete slabs are sinking. Soil shrinkage, compaction, and settlement all have an impact on your concrete slabs. In addition to this the soil composition in Florida consists mostly of loose soil and sand which means that the soil, if not compacted correctly before the concrete is poured, can settle or compress more over time causing your slab to sink.
Another factor which causes concrete sinking is the washout of soils. Sometimes the soil that is underneath your driveway, patio, walkways, and other concrete slabs may be washed out by heavy rains leaving a void underneath your concrete slab. These voids are areas where your concrete can sink into and can even lead to large cracks in your concrete.
Contact Our Experts Today
The good news is that you don't have to live with sunken concrete anymore! Contact our experts online for by phone to schedule a free inspection and estimate for your sunken concrete slabs today.