Do you have a concrete slab floor that is showing signs of sinking, sagging, or settling? Are the walls separating from the floor below or ceiling above?
IF you have a problem like this in your home, you could have a sinking or settling concrete floor slab. This problem can lead to cracks in floors and walls, uneven surfaces, and a weakened foundation.
Luckily, the foundation repair experts at Florida Foundations & Concrete Leveling can help you solve this problem permanently! We provide a complete foundation repair solutions in Tampa, Orlando, Saint Petersburg and nearby areas in Florida. Call us today to get a free estimate.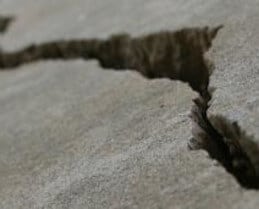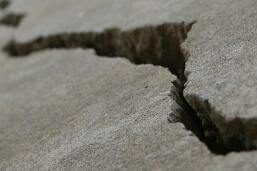 When a floor slab settles, the damage can manifest itself in many ways. Along with cracks in the concrete, the floors can separate from the walls as they sink downwards. Alternatively, the interior wall may be pulled down with the floor, instead separating from the ceiling. Walls can also pull away from other walls, and interior wall cracks can form — commonly off the corners of interior doors.
What Causes Slab Settlement?
When a concrete floor settles, it can mean serious damage to your home. The causes of floor slab settlement are almost always due to the soils underneath being unable to support the weight of the concrete. They often accompany other foundation problems in your home.
Foundation Settlement Repair Methods
Drying & Shrinking of the Soil Under the Slab
HVAC (Heating, Venting, and Air Conditioning) systems may be installed beneath the floor slab. Over time, the ductwork can leak air, which can dry out the soil
As the soil dries and shrinks, gaps form under the floor slab, creating voids. Because the soil no longer supports the floor slab, the floor begins to crack and sink into the voids.
Washout of Soil Under the Slab
This is usually caused by plumbing leaks. If the plumbing leak is severe and there is a path for the water to flow through, it can wash soil out from under the slab.
With a void underneath the floor, there's nothing supporting the concrete slab anymore. In time, it begins to crack and sink downwards.
Poor Compaction of Fill Soil
During construction of a new home, layers of soil are commonly moved around or spread out to get to the desired grade level. When the home is built, footings may be deepened to extend below weak fill soils and avoid a foundation settlement issue.
The slab, however, remains on the fill soils. If the fill was poorly compacted, the fill soil compresses and settles, and a void is formed under the slab. In time, the slab cracks, breaks, and settles into the void.